Open Competition Category Official Selection 2023
Welcome to the heart of our cinematic journey, the Open Competition Category, showcasing a diverse selection of ten remarkable short films for the Mental Health Film Festival Singapore. In this category, we embrace a multitude of narratives that portray mental health in its rawest, most authentic forms. These films encompass a rich array of genres and styles, reflecting the multifaceted nature of mental health and the human experience. From poignant dramas to uplifting tales, these movies are a testament to the resilience of the human spirit and the power of storytelling to ignite conversations and evoke empathy.
The Open Competition Category stands as a testament to the depth and breadth of stories that revolve around mental health. It is a celebration of the art of filmmaking as a means to illuminate the struggles, triumphs, and nuances of mental well-being. Through these films, we endeavor to break down barriers, challenge preconceived notions, and foster a society that engages in open dialogue about mental health. Join us in this cinematic exploration as we delve into the narratives that remind us of our shared humanity and the importance of compassion and understanding in our collective journey towards mental wellness.
To get over someone she loved, Andie plans a 30-day exposure therapy programme for herself. Her best friend, Mitch, accompanies her out of her worry as she revisits the places they used to go.

Dawn, like countless others, daydreams about opening a cafe. Hers shall host movie nights, where films (ideally some of which she has made) are screened and watched from beanbags, with books lining the shelves (maybe featuring some of hers). She wants her work to have sun and bring light.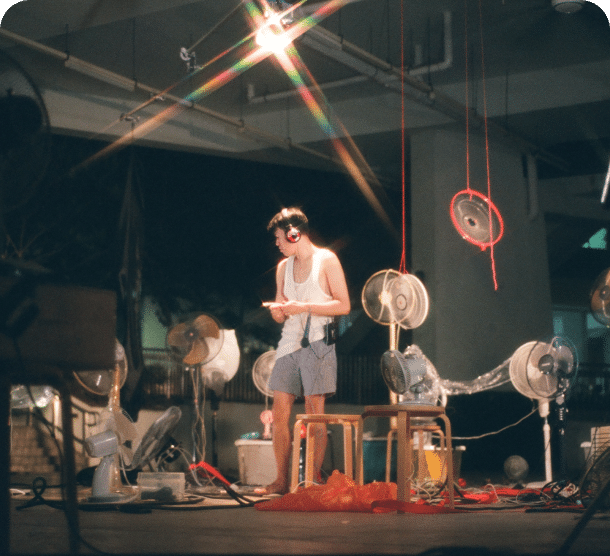 The film is a homage to one's items and environments. The bed we sleep in, the plants we nurture and grow, the pets that died miraculously. As children, we often seek solace, warmth, and comfort from the toys and objects we possess. This silent intimacy evolves and materializes into something different as we age but, it will never leave.

Vegas Lee is a bao-kar-liao (do everything) filmmaker from sunny Singapore who wish to tell meaningful stories through the various mediums of art. His interests span androgynous, experimental fashion, watching unnecessarily slow films, and appreciating art that's older than him. Graduated from Ngee Ann Polytechnic, Film Sound Video and he's currently serving the country!
Alicia lost her eldest son to suicide on 5 June 2021. Initially she was racked with guilt and constantly blamed herself for what had transpired. But after seeking help, she managed to find ways to cope and process her grief. With the support of her community, she found strength in knowing that she was not alone in this journey and consequently, sought to encourage others who might be in a similar situation.

Christine Seow is a filmmaker who has dabbled in both narrative and documentary films. Her documentaries include 'While You Sleep' which won Best Documentary at the Asia Web Awards 2018, 'Rojak Romance' which has been screened at various international film festivals, and '21' which is now available on Apple TV (Singapore). She is currently taking her Master's at the National Film and Television School.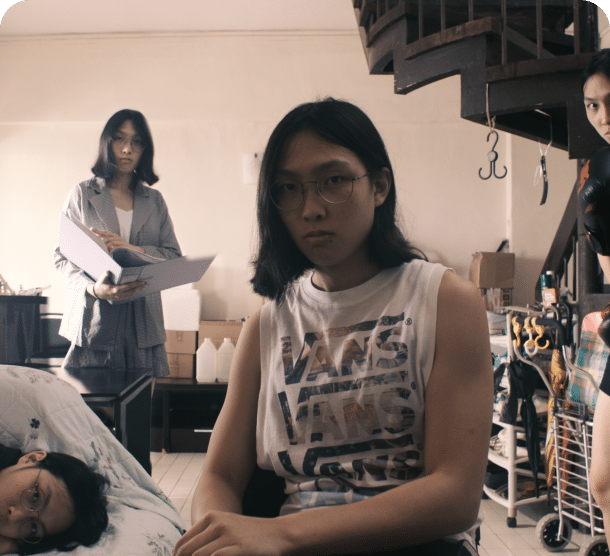 Through the Looking Glass
Through the Looking Glass' is a documentary that showcase Alice's struggles through a unique blend of narrative documentary. From the gloomy depths of her multiple personalities condition to the glimmers of hope and positivity, this documentary will showcase the realities of mental health and the importance of empathy and support.
Cho Jun Ming, a passionate filmmaker, became the youngest recipient of the 'Ten Outstanding Young Persons Of The World' Singapore Merit in 2018 by the Junior Chamber International. Some of his films were also recognized at global festivals and one of them was awarded the 2019 Singapore Audience Choice Award Silver by National Arts Council. Through various media features, he humbly shares his journey from adversity, aiming to positively impact the community and elevate Singapore's media landscape through the art of making films that deal with various social issues. 
Paper Planes, Don't Always Soar
Inspired by a true story of an aviation disaster, a daughter tries to bridge the bond she lost after her father returns home from a plane crash, where he struggles to remember his life before that fateful catastrophe.

With 6 years of both industry and educational film & television experience, Diyana is always seeking new opportunities to expand her skills and exercise her creativity. Diyana enjoys collaborating with creatives from the media and entertainment scene.
Mariam struggles to juggle her job as a nurse while taking care of her mother. Relationships strain, reality distorts, with mind and body waning not only by a surging pandemic, but a sickness infecting the household.

Muhammad Bahajjaj recently graduated from National University of Singapore (NUS), having studied English Literature and Philosophy. He was part of a student collective dedicated to the cinematic arts called nuSTUDIOS Films Production. He had also previously studied filmmaking at Temasek Polytechnic, School of Design, with a diploma in Digital Film.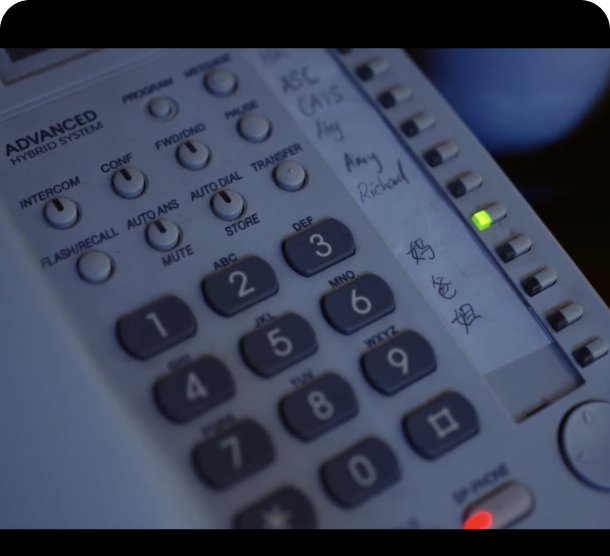 Through a voicemail recorder, we see a mother process the grief from the passing of her son and how she remains resilient throughout her journey.
A flair for storytelling led him to the path of his chosen form of expression. He aims to tell tales of the unheard and light the path shrouded in darkness. Voicemails is his debut film for Mental Health Film Festival 2023. He hopes to champion mental resilience through the film.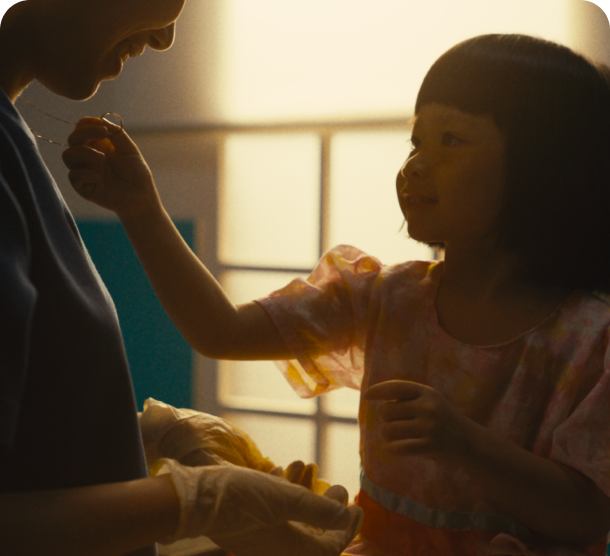 After discovering that she can help the dead relay their last messages, an embalmer struggles to balance between her work and her family, leading to devastating consequences.

Jean-Pierre Pillay finds purpose in telling emotional stories about the human experience through the power of cinema. You can either find him at the Projector or Asian Film Archives.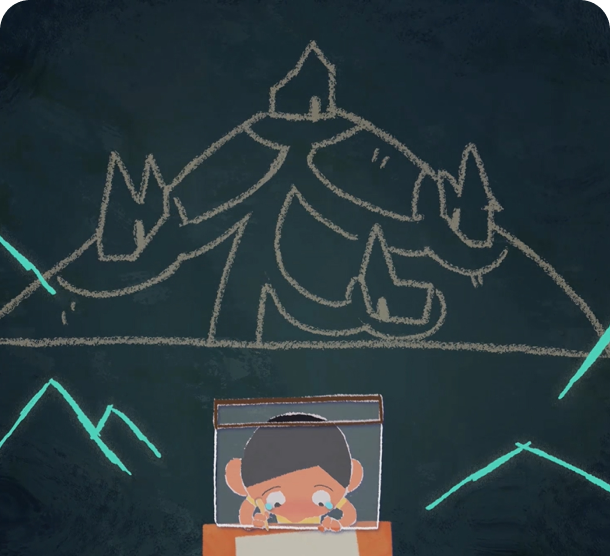 When Kevin moves into a new neighborhood, a strange problem arises: non-stop tears are flowing on and on from his eyes. He comes up with a fool-proof solution: to wear a fish-tank on his head.

Novella is an Indonesian animation filmmaker based in Singapore. A graduate from LASALLE College of the Arts, her films, Taximan (2019) and Tankboy (2021) have screened in international film festivals, such as DOKUFEST, ITFS Stuttgart, MONSTRA Lisbon Animation Festival, and many others. She is currently working on independent projects.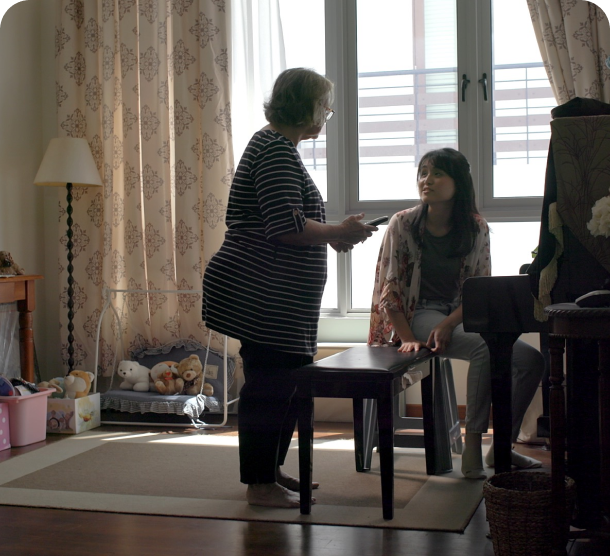 Elle, a girl in her late teens, visits the elderly lady's house thinking she's interested in receiving piano lessons from herself. However, upon realizing the miscommunication, Elle soon learns that she has stumbled upon a tragic family affair.

Syamsul began his filmmaking journey with an old VHS tape-recorder and an interest in capturing life's dull and beautiful moments. Having produced and directed films across different genres such as Clara, Bulan and The 12th Man, he enjoys tackling social realism, social issues and cultural issues, while showcasing Singapore's localism.