Making Visible The Invisible | COVID-19: Migrant Workers X Mental Health
October 10, 2020 @ 3:30 pm

-

5:00 pm

Free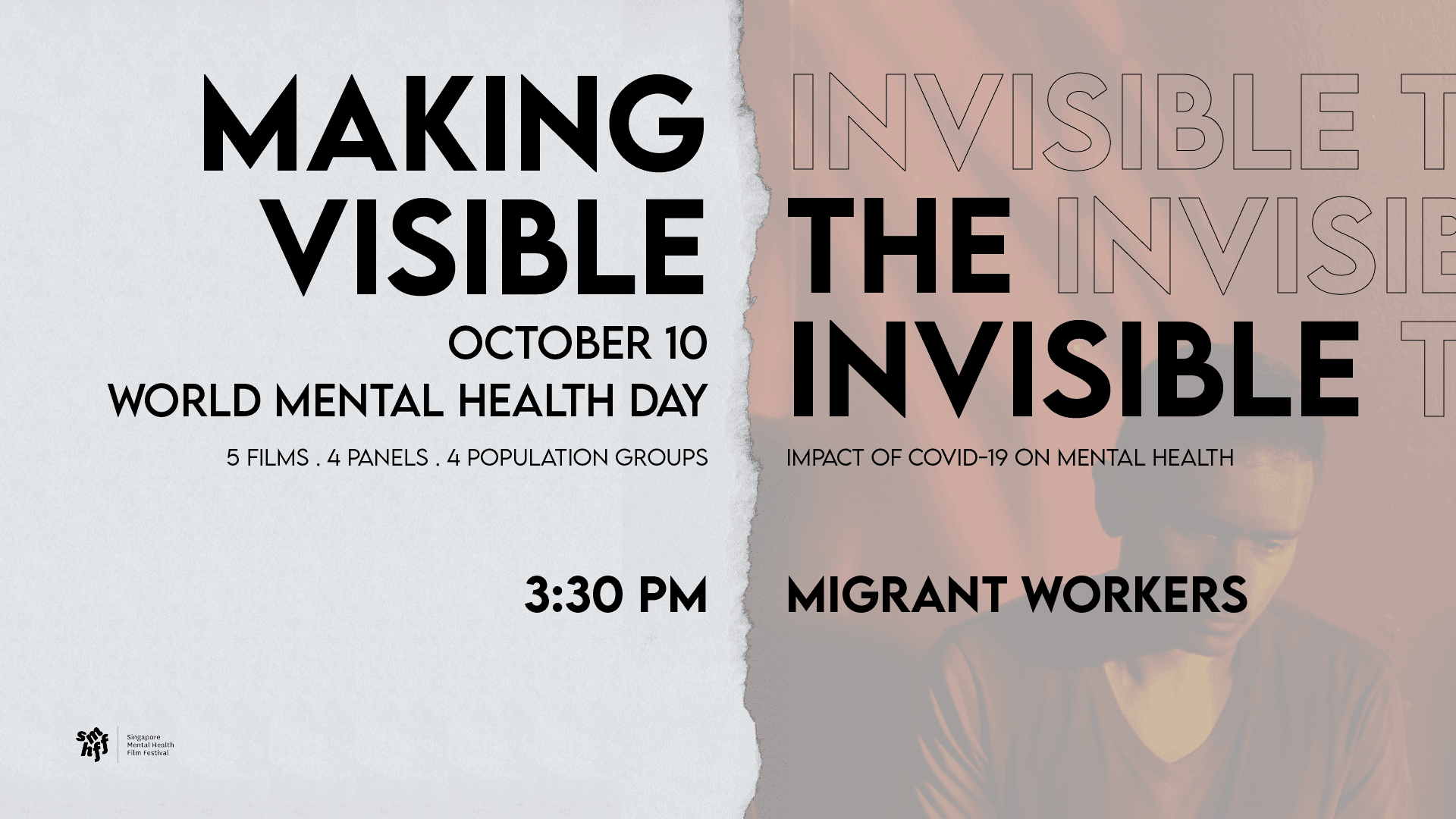 "Migrant workers" have become the buzzword of COVID-19 . It has arguably made visible the invisible, and has shed greater light on the structural problems, living conditions, and mental health of the thousands of workers living and working in Singapore. How do we perceive migrant workers in Singapore? Do we see them with suspicion and tension, or with empathy and compassion? Where do these ideas and biases come from?
FILM
Bangla | Huiyi Idette Chen, Singapore, 2018, 17mins 16seconds
Bangla tells a story about an injured migrant worker who ends up moonlighting at a struggling hawker stall in his desperation to send money home. It is an attempt to shed light on the local-foreigner relationship in Singapore where the two communities co-exist on a tiny red dot for nothing more than a living transaction. However, the meeting of Savi and Ang is an allegory of two seemingly different communities realising their need for each other, and the similarities that they share, no matter how brief the encounter may be.
PANEL
In this panel discussion, we will dwell deeper to examine the relationship migrant workers have with Singaporeans, and how contrary to popular belief, we are more alike than we are different. We will also discuss the mental health of the migrant workers especially in light of the pandemic, and how we can, in our own domains, advocate for better protection and well-being.
MODERATOR
Kari Tamura Chua | Co-Founder, SAMA SAMA
PANELISTS
Edwin Soh | Social Worker, Here With You – Migrants' Helpline
Rocky | Migrant Worker
Nelia Phoon | Producer, Bangla
Dr Jacob Rajesh | Senior Consultant Psychiatrist, Promises (Winslow) Clinic
Conversations powered by Pigeonhole
You can help to destigmatise mental health issues in Singapore by supporting our work today at www.give.asia/smhff