Making Visible The Invisible | COVID-19: Elderly X Mental Health
October 10, 2020 @ 12:30 pm

-

2:45 pm

Free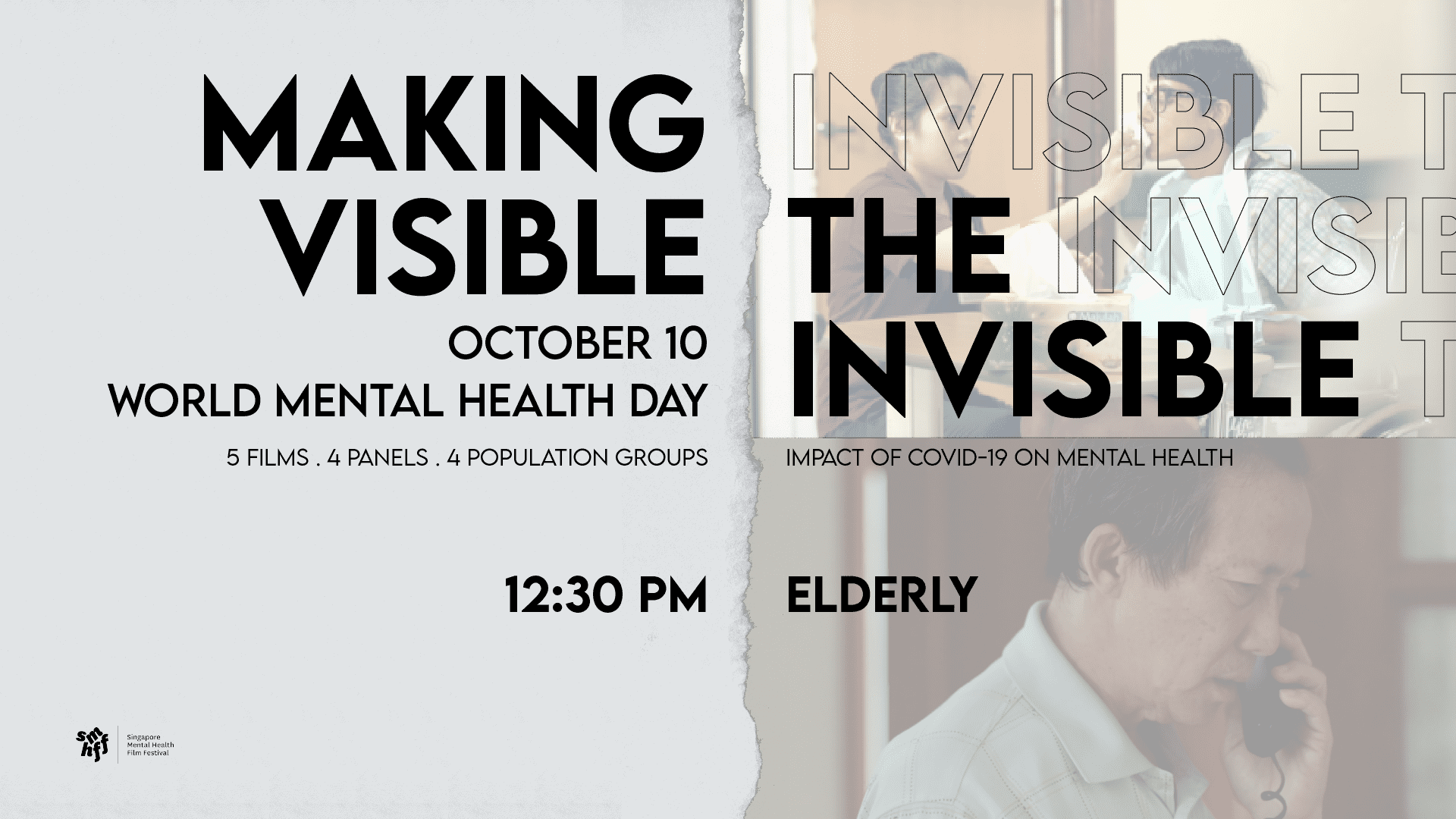 The elderly is known to be a vulnerable population group that is prone to the ill-effects of COVID-19, and as a result of this, many community programmes have been stalled in hopes to reduce potential opportunities for virus transmission. Community facilities have also likewise impose strict visitors quota and have significantly reduced socialising programmes. How have these safe-distancing measures impacted the mental health of our elderly – particularly those who are staying alone, and whom have been staying "active" by participating in community events? Does safe-distancing measures result in social isolation? And what we can do to support the elderly and their caregivers?
FILMS
Come See Me | Liu Bing Jie, Singapore, 2019, 4mins
Ah Di calls his younger sister in an attempt to get her to come see him as his head has been hurting really badly. However, the message was lost when her granddaughter interrupts the call. He then struggles with the pain that stems from his head and his heart. As the emotional pain, accompanied with the physical pain, gets too much, he contemplates suicide just as the doorbell rings.
Anita's Nursing Home Stay | Lien Foundation, Singapore, 2017, 67mins
PANEL
In this panel discussion, we aim to understand more broadly the range of mental health issues that are more prevalent in old age, and how the pandemic has affected the mental health of elderly – both in the community and in community facilities. We also aim to share more on the signs and symptoms of poor mental health amongst the elderly and how we can reach out to them. The panel will also discuss how familial relationships may be impacted as a result of stay-home measures, and will highlight community services are available for both the elderly and their caregivers.
MODERATOR
Anita Kapoor | Host, Speaker, Facilitator
PANELISTS
Micki Sim | Senior Social Worker, Montfort Care
Dian Karnina | Psychologist & Manager, Apex Harmony Lodge
Mdm Rohani | Caregiver to husband with dementia
Conversations powered by Pigeonhole
You can help to destigmatise mental health issues in Singapore by supporting our work today at www.give.asia/smhff